BankRec™
Bank reconciliation software for bank accounts, credit cards, and other matching needs

Five key points you may want to know about our Bank Reconciliation Software
1. Bank Reconciliation takes two sets of data—and matches them based on rules that you define.
2. Matched records are tagged with an 'audit trail number'—so you can easily research and report.

3. Unmatched records - are 'rolled forward' to each subsequent period until matched.

4. Our exclusive Stay In Balance™ feature will generate Reconciliation Reports, which when properly completed, will help satisfy SOX and audit requirements. Out of balance now? Our First Period Wizard will help you balance.

5. Easy to install and use, and able to support large clients (State of Massachusetts over 8 million records).
A full working copy is available for free trial download - or if you're ready to license - starting at $99.95/month.



Importing Data
Import your cleared bank transactions and your general ledger transactions, using our easy to use interface - or set up an automated process using our Software Integration Kit.







Automated Transaction Matching™
Free your staff from time consuming 'ticking and tying' enable them to focus on exceptions.
Perform high speed automated matching with our predefined matching rules - simple and already set up.

Prefer your own matching criteria? Not a problem with BankRec's User Defined Matching Rule.







Matching Window
For journal entries, adjustments and other items that may not have been foreseen - easily match items.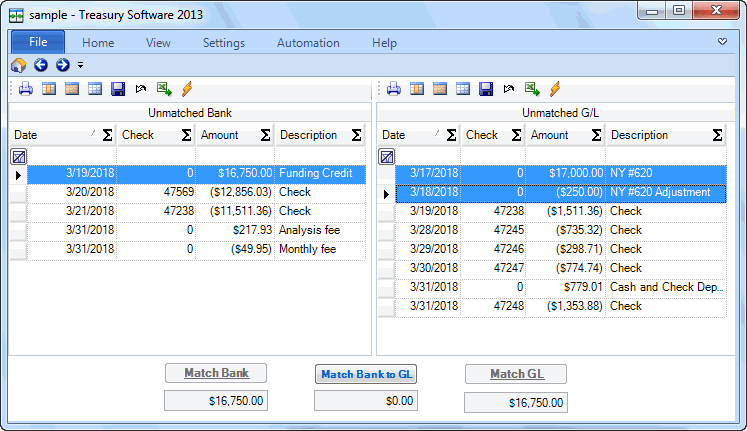 User Defined Classification Rules for Advanced Applications
Depending on your data requirements - BankRec provides advanced support for transaction and site classification. Similar to Microsoft Outlook-style Rules, BankRec rules examine test/examine each item - and then takes an action.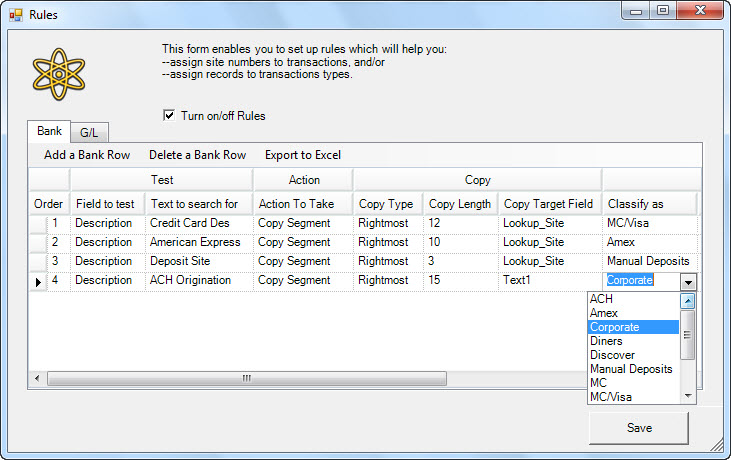 Reconciliation and Exception Reporting
Run two sided reconciliation reports, as well as record listings and period sensitive (a record matched in May, may not have been matched in April) reporting. Excel-style filtering, grouping and exporting to Excel.

Have your staff focus on high exposure items first.
Exception Reports don't simply list the unmatched items - our Bank Reconciliation software provides the reason why the record didn't match, such as 'check cleared bank for a different amount then the G/L', 'check already cleared', and more.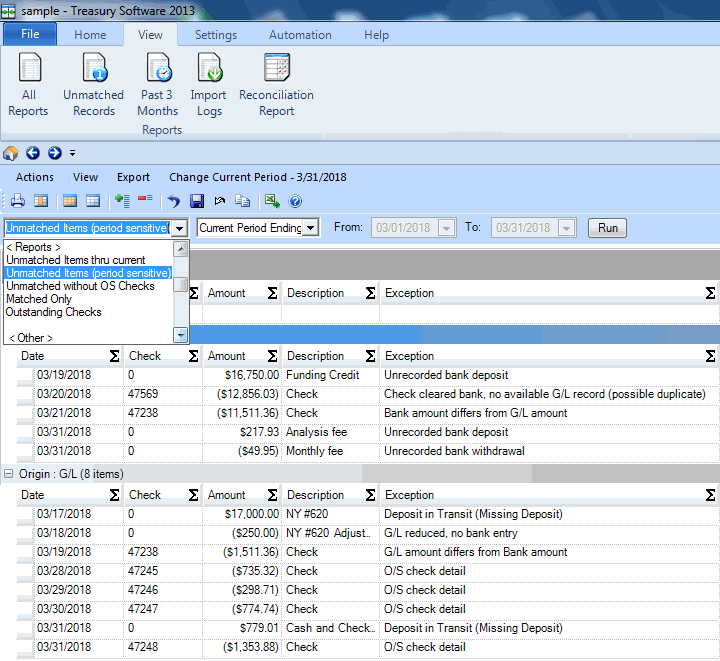 No Risk - Test now with your data
Download now and install a free, full-working version of BankRec to test.
No credit card needed, no catch. Completely risk-free, no obligation.


In addition:
Export the results back into your accounting package, any third party software solution or simply Microsoft Excel. Perform research using our built in report generator and Quick Find features.

Stay In Balance™ gets your accounts in balance and most importantly - stay in balance - by protecting reconciled periods. Audit ready reconciliation reports with all editions.

Whether simply matching disbursement records or reconciling a credit card account with multiple merchant ID's, our Bank Reconciliation software provides a wide range of unique features.
Although most of our clients only require a few of these features, others need more advanced capabilities. Bank Reconciliation meets the needs of businesses and banks of all sizes.

Need more information? Give us a call: 866-226-5732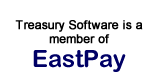 Can't find what you need? Contact us online or at 866-226-5732
© Treasury Software Corp. 1999 - 2014. All rights reserved.